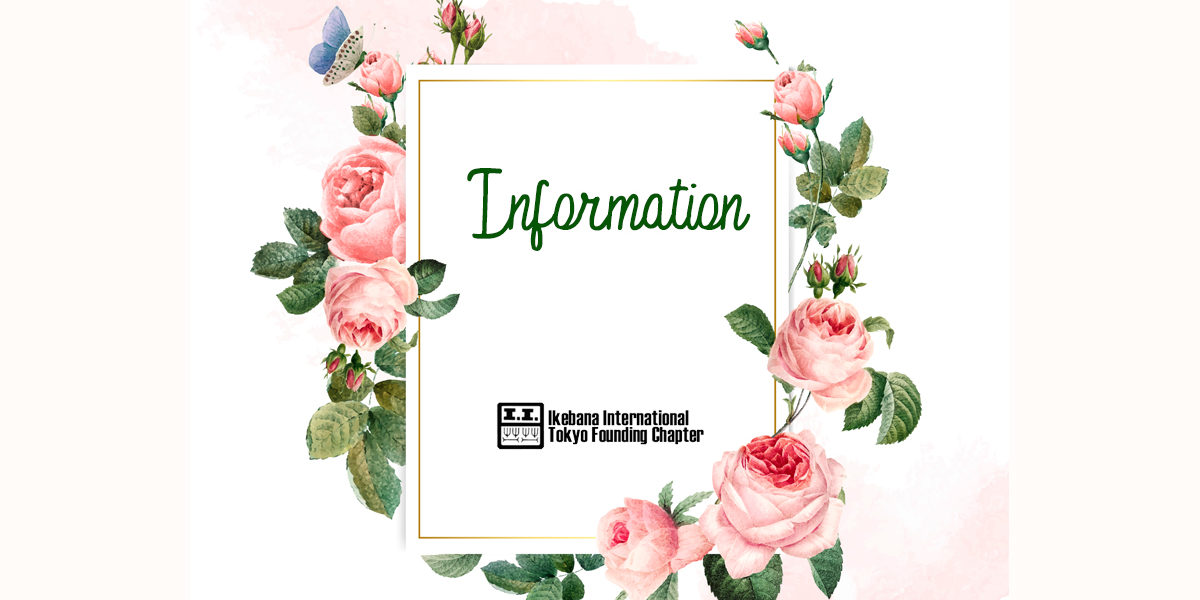 ♥♥♥ IKEBANA INTERNATIONAL FAIR 2022 ♥♥♥ 
PLEASE COME AND JOIN US 
ON
December 12(Mon)
Entry Ticket (with a raffle ticket for lottery included):  3,000 yen each
Advance Tickets have sold out
Limited number of Tickets are available on the day at the venue 
or
Contact TFC Office for advance booking with payment made on the day
Details and precautions of the event are as follows
♥♥♥ 今年もいけばなインターナショナルフェアを開催いたします ♥♥♥
皆様のご参加をお待ちしております
なお、I.Iフェアの前売りチケットは完売しております
ご来場希望の方は、当日チケットをお求めください
尚、当日券にも限りがあります事、ご了承ください
オフィスで予約されて、当日お支払いの上、チケットを受け取る事も出来ます
開催要項および注意事項は下記をご覧ください
フェア22brocheP1

フェア22brocheP2

Precautions for Ikebana International Fair 2022
As a measure to prevent infection with Covid-19, admission will be restricted to avoid congestion. You will not be allowed to see the ribbon-cutting ceremony by H.I.H. Princess Takamado. You can see it on our website later.
We will measure your temperature at the reception desk on the 2nd Floor. Please be sure to complete the reception process before proceeding to the 3rd Floor venue.
Please be sure to wear a mask.
A raffle ticket is attached to the ticket. Please fill in your name, address and phone number on the separated stub and put it in the raffle box at the time of reception. You cannot participate in the raffle by mail. If you plan to be absent on the day, please ask your family or friend to attend in your place. After the registration, you will receive a present at Shinonome Room (2F).
From 13:00 the entertainment and raffle will be held at Royal Hall (3F).
There will be no coffee service and no eating at the venue to prevent the spread of the virus.
Please bring your own shopping bag.
※Please note that tickets will not be refunded in the event that the fair has to be canceled due to the spread of the coronavirus infection.
Thank you for your understanding and your generous support.     
I.I.フェア2022の注意事項
新型コロナ感染防止対策として密を避けるため、高円宮妃久子殿下によるテープカットを御覧いただくことはできません。後日、東京支部HP上にアップロードいたします。2Fにて検温、受付をいたします。必ず受付を済ませてから3F会場へとお進みください。
必ずマスクを着用してください。
チケットには抽選券がついております。お名前、ご住所、お電話番号を前もってご記入いただき、受付時に、切り離した半券を抽選箱にお入れください。
郵送での抽選会参加はできません。当日欠席する方は、出席する方にご依頼ください。受付後、2F「東雲」にて参加賞をお渡しいたします。
13時より3Fロイヤルホールにて、エンターテインメントならびに抽選会を開催いたします。
会場での飲食を避けるために、コーヒーサービスはございません。
各自ショッピングバッグをご持参ください。
 ※ 新型コロナウイルス感染拡大の状況によりフェアを中止する場合でもチケットの払い戻しは致しかねます。ご協力、ご理解のほど、どうぞよろしくお願い申し上げます。