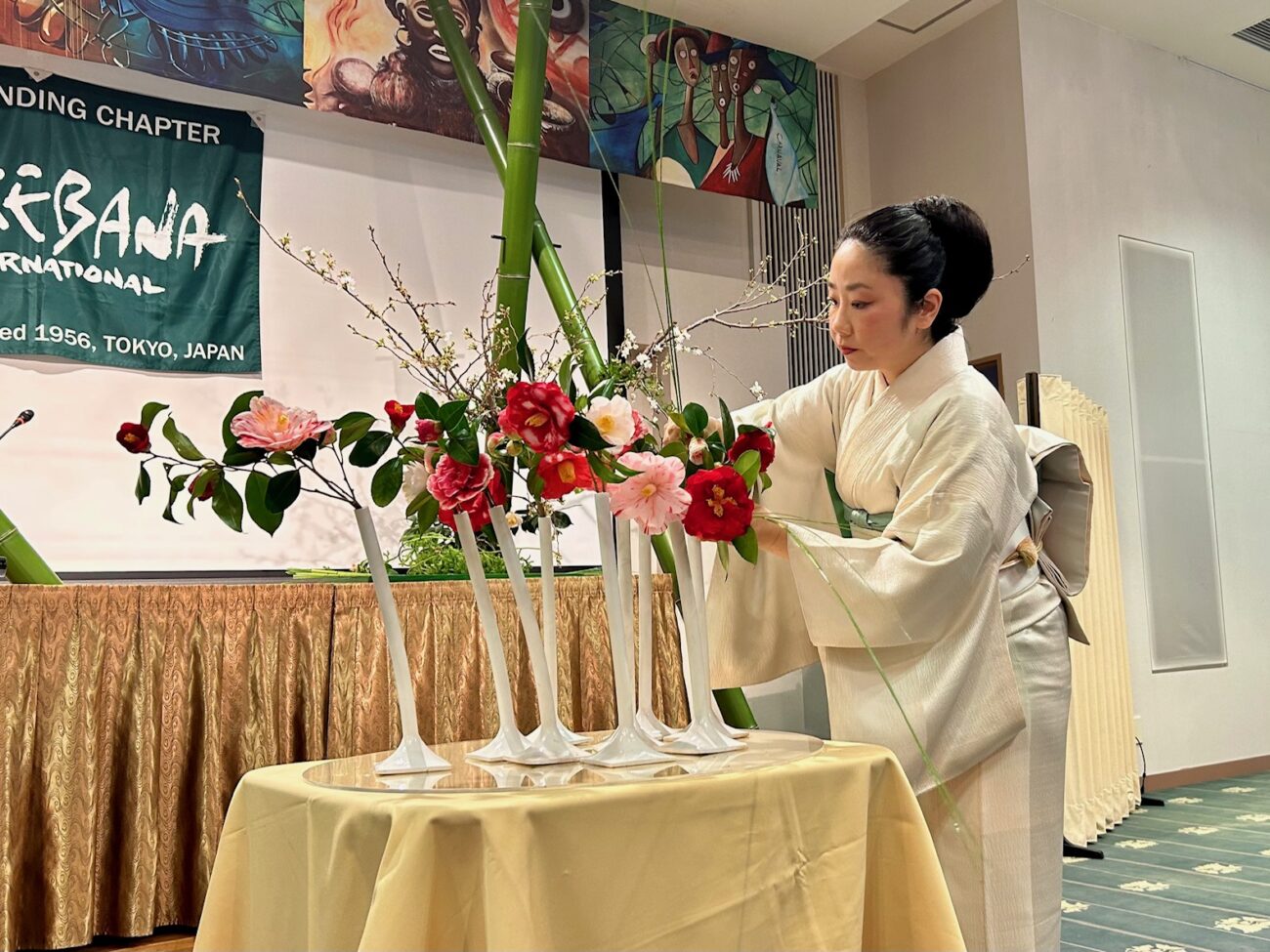 March Monthly Meetin 3月例会2023
March Monthly Meeting / Ikebana Demonstration by Kagei Adachi School
三月例会 / 花芸安達流二代主宰によるいけばなデモンストレーション
The March monthly meeting was held at the Embassy of the Republic of Angola, by courtesy of Mme. Maria de Fatima Xavier, the spouse of Angola Ambassador.
We enjoyed the Ikebana demonstration by Ms. Toko Adachi, Second Grand Flower Master of  Kagei Adachi School and then we listened the music by Ange Musique group, Ms. Ichiko Tanaka (Clarinetist), Ms. Mayumi Hosaka (Flutist), Ms. Yoko Ito (Pianist) and Ms. Naomi Takahashi.
The theme of Ikebana demonstration was done on the theme, 'Hanagoromo'. In the first ikebana demonstration, cherry blossoms and camellias were beautifully arranged in the bamboo container that was widely placed on the stage, and the performance of Ange Musique was harmonized well.
A light and bright spring was beautifully produced with "Yose Ike" by the distinguished guests.
Ange Musique's performance wrapped the venue elegantly, and they accepted the encore and everyone listened their music intently.
After the meeting, the attendees enjoyed the tea time with the hospitality of Mme. Xavier.
3月例会はアンゴラ大使夫人マリア・デ・ファティマ・シャビエール様のご厚意により、アンゴラ大使館で開催しました。花芸安達流 二代主宰 安達曈子先生によるいけばなデモンストレーションを拝見し、Ange Musique (アンジェミュジーク) 代表のクラリネット奏者 田中伊知子様とフルート奏者の保坂真弓様、ピアノ演奏の伊藤陽子様、高橋奈織美様は譜面めくりをしてくださり、演奏といけばなが折り重なり流れました。
花芸安達流二代主宰 安達曈子先生のいけばなのテーマは 「花衣」で、1作目は舞台に大きく配置された美しい竹の構成に桜と椿が見事に映え、Ange Musique (アンジェミュジーク) の演奏が調和し、ご出席の来賓による「寄せ生け」で軽やかな明るい春を演出されました。
Ange Musiqueの演奏は会場を優雅に包み、アンコールも受けて下さり皆様も聴き入っていらっしゃいました。例会後は大使夫人のおもてなしによるティータイムを会場の皆様は楽しまれました。