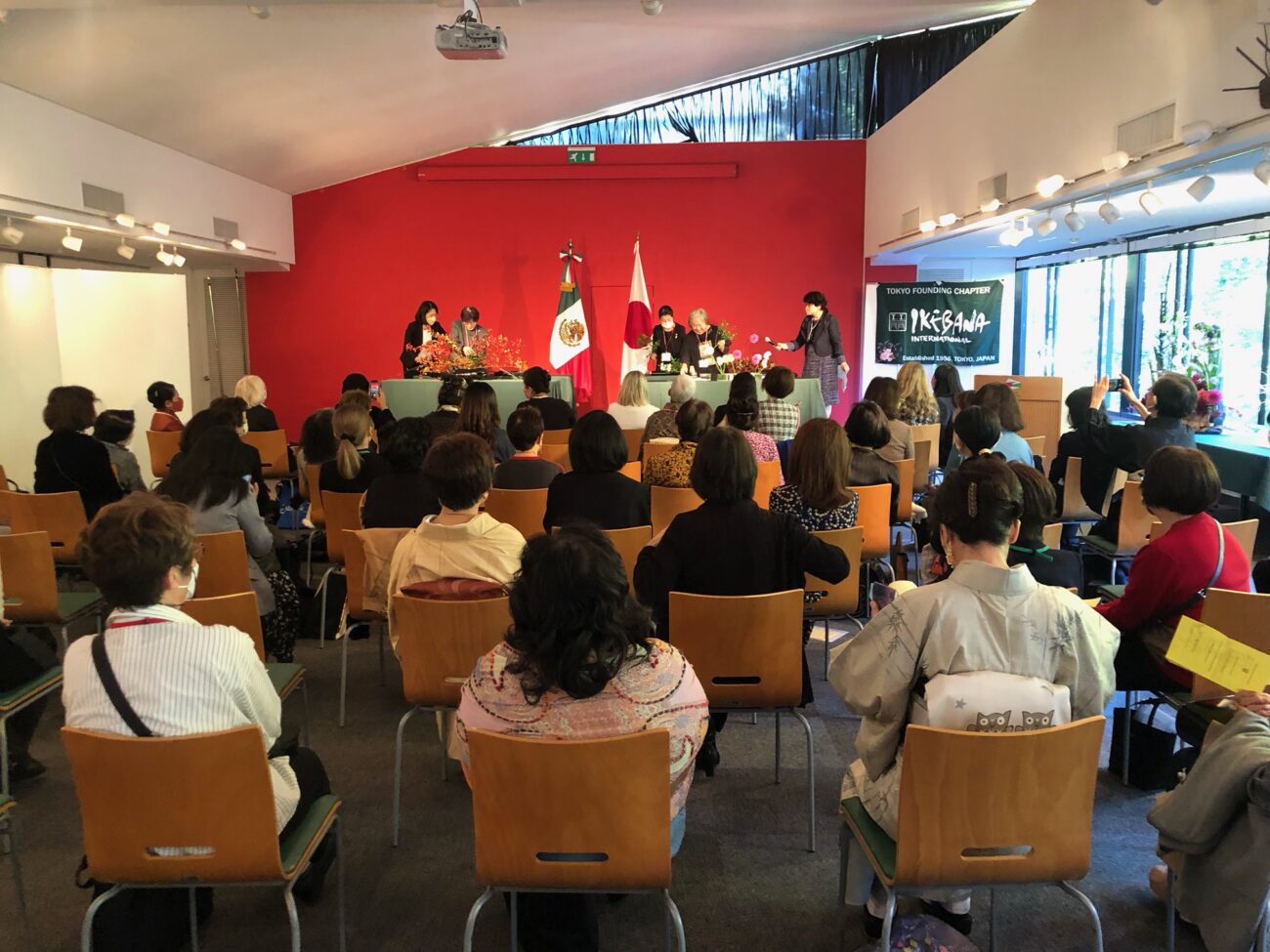 November Monthly Meeting / 11月例会 2022
11月例会 「会員によるいけばなデモンストレーション」開催
November Monthly Meeting
"Ikebana Demonstration by Members," was held on Wednesday, November 16, 2022, from 1:00 p.m. at the multipurpose hall, "ESPACIO MEXICANO" of the Embassy of Mexico (Nagatacho, Chiyoda-ku).
Those who had applied to perform and who had been requested to were assigned to four different groups, and the respective pairs gave demonstrations on the stage.
Mme. Kaire JURGENSON, the wife of the Estonian Ambassador and Ms. Ekuko Odake of the Sogetsu School performed in the first group, Mme. Hanan ABUBAKR, the wife of the Egyptian Ambassador and Ms. Noriko Yasuhara of the Ohara School in the second group, Mme. Nuning Wahyuniati AKHMADI, the wife of the Indonesian Ambassador and Ms. Emi Yoshimura of the European Flower Academy in the third group. Finally, Ms. Nobuko Usui of the Ohara School and Ms. Noriko Kira of the Sogetsu School performed in the fourth group.
While interviewing the demonstrators, we enjoyed gorgeous and unique ikebana.
 When we pass from the gate of the embassy to the entrance of the hall, we were able to see the large agaves and cacti, and while listening to the Mexican background music, we spent a wonderful time enjoying the atmosphere of Mexico. The attendants received agave syrup, as a souvenir, which is made from agave and good for health.
2022年11月16日(水)午後1時より、メキシコ大使館(千代田区永田町)の多目的ホール「ESPACIO MEXICANO」にて、11月例会「会員によるいけばなデモンストレーション」を開催しました。
応募くださいました方々、ご依頼申し上げました方々舞台にてお二人ずつ、4グループがデモをされました。
第1グループはエストニア大使夫人 Mme. Kaire JURGENSON と草月流の小竹永恭子様
第2グループはエジプト大使夫人 Mme. Hanan ABUBAKRと小原流の安原典子様
第3グループはインドネシア大使夫人 Mme. Nuning Wahyuniati AKHMADI とヨーロピアンフラワーアカデミーの吉村恵美様
第4グループは重鎮の小原流の臼井延子様、草月流の吉良紀子様
計8名の方々のお話しを伺いながら、個性あふれる華やかないけばなを拝見しました。
大使館の門から建物の入り口には大きなリュウゼツランやサボテンが育ち、メキシコの音楽のBGMを聴きながら、メキシコのお国の雰囲気を味わいながら豊かな時間を過ごしました。皆様へのお土産はリュウゼツランから作られる体に良い「アガベシロップ」をお持ち帰りいただきました。