IKEBANA INTERNATIONAL (I.I.)
Ikebana International was founded in Tokyo in 1956 by the late Ellen Gordon Allen as a worldwide organization dedicated to the promotion of mutual understanding and friendship through ikebana, the Japanese art of flower arrangement, and other related arts of Japan.
Ikebana International is administered by volunteers of many different nationalities and ikebana schools.
In 1969, Ikebana International was granted the status of Shadan Hojin, a title given to cultural, nonprofit organizations in Japan. The organization's aim is to spread goodwill and understanding throughout the world with Friendship Through Flowers Over the years Ikebana International has grown to more than 160chapters in more than 50 countries and has around 7.500members worldwide.
いけばなインターナショナルは、いけばなのすばらしさと日本文化の紹介を通じ、相互理解と友好の輪を世界に広げる趣旨で、故エレン・ゴードン・アレン夫人により1956年に東京に設立されました。
会員のボランティア活動で運営され、1969年には非営利の文化団体として、外務省から社団法人の認可を受けました。
様々な流派の会員が、モットーの「花を通じての友好」を大切にして、国籍や人種を超えて活動しております。
160を越える支部が世界50ケ国以上に創設され、現在、会員数7.500人を数えるほどになりました。
法律改正により、2012年から一般社団法人として再出発致しました。
TOKYO FOUNDING CHAPTER (TFC)
Tokyo Founding Chapter has over 700 members including wives of Ambassadors to Japan and honorary members.
Monthly Meetings
Members meet every month, from September through June.Programs include ikebana demonstrations by accomplished masters from a variety of ikebana schools, other presentations of Japanese culture, a day tour plus the following events.
Ikebana International Fair
Dozens of members work together every year for this special end-year fundraising event.The fair features ikebana exhibitions by headmasters, booths for shopping sponsored by embassies from all over the world, special entertainment, raffles, and much more.
Ikebana Exhibition by Members
Exhibition brings together flower masters of many different schools, their teachers and students into harmonious relationships.
Gala June Luncheon
The highlight event of the year is an ikebana demonstration and luncheon at a top class hotel.
東京支部では、各国大使夫人や名誉会員を含む700名をこえる会員が、楽しく活動しております。
月例会
会員は9月の新年度から6月まで、毎月一回集います。年間のプログラムには、多様な流派の家元や教授によるデモンストレーション、日本文化の紹介、郊外へのツアーなどに加えて、下記のような大きな催しもございます。
いけばなインターナショナルフェアー
恒例となった年末の運営費補充のための催しの準備に、多くの会員が一緒に活動します。多数家元による花展、各国大使夫人のインターナショナルバザーとベークセール、会員手作りのお菓子や手芸品、エンターテイメント、福引等が催され、例年約2,000人の来場者で賑わいます。
会員による一般公開のいけばな展
初級者から上級者までが、和やかに花をいけます。各流派の家元の作品もご覧いただけます。
6月昼食会
1年の終わりには、いけばなのデモンストレーションと親睦を深める昼食会を一流ホテルで楽しみます。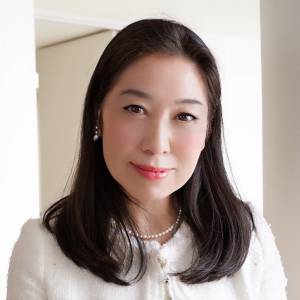 Junko Katano
Ikebana International Tokyo Founding Chapter
President 2019-2020
いけばなインターナショナル東京支部
2019-2020 支部長 片野順子
It is a great honor for me to accept the presidency of Ikebana International Tokyo Founding Chapter for 2019-2020. I understand the huge responsibilities, with much the same feeling as when I was elected International president of Ikebana International for 2015-2017. In 2017 and 2018, I worked as the coordinator of the Ikebana International Fairs with chairpersons, Mme. Rahel Sleeuwagen, wife of the Belgian ambassador and Mme. Matelda Starace, wife of the Italian ambassador. Both fairs were a great success and this year, Mme. Ioanna Giannakarou, wife of the Greek ambassador, will be the fair chairperson. As you know, Greece is where the Olympic Games originated – and in 2020, we will have the Olympic Games in Tokyo. Given this connection, I hope we will have a lot of opportunities to introduce ikebana on many occasions. I plan to make the monthly programs and venues even more charming to increase our membership, not only Japanese but also international members. I want to make them feel privileged to be members of our organization. I am confident that with our new Board members working as a team we can achieve this purpose. So please looking forward to the programs in 2019 and 2020 and I wish that you will attend the meetings, enjoy ikebana and share in friendship through flowers.
いけばなインターナショナル東京支部長のお役を引き受けますことは、大変名誉なことではありますが、同時に、私が本部会長(2015~2017)をお引き受けしたときと同じような重責を感じております。
2017年(フェア委員長、ベルギー大使夫人、ラフェル・スレーワーゲン様)、2018年(フェア委員長、イタリア大使夫人、マテルダ・スタレーチェ様)とフェアのコーディネータを務めさせていただきましたが、おかげさまで、両フェアとも大成功でした。
今年度は、ギリシャ大使夫人をフェア委員長に御迎えいたします。ギリシャといえば、オリンピック発祥の地です。2020年には、東京でいよいよオリンピックが開催されます。様々な場面で、いけばなを紹介する機会があるでしょう。毎月の例会や会場をより魅力的なものとし、会員増加に努力したいと考えています。新しい役員の方たちとともに、この目的達成のために頑張りたいと思います。どうか、今年度のプログラムに期待していただき、毎月の例会に参加して「花を通じての友好」を分かち合っていただきたいと存じます。
Members receive three issues of the Ikebana International Magazine per year.
Sakura News and Chapter Activities Newsletter inform members of Chapter, headquarters and regional ikebana activities.
いけばなと日本文化を掲載した英文会員誌が、年3回、又、本部および支部の活動ニュースが本部から送られます。
会員は日本で5年ごとに開催されるいけばな世界大会、世界の7地域で開催される地区大会に参加できます。