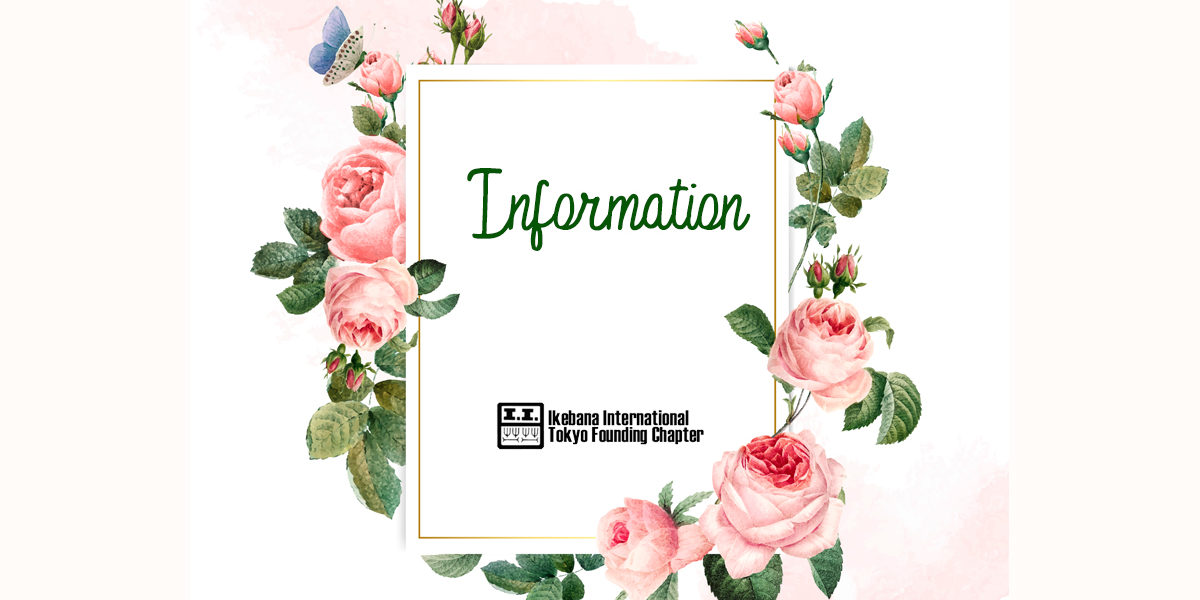 会員によるチャリティーバーチャル花展
-いけばなの力で
コロナ禍の中、少しでも皆様の癒しになるようにと、会員によるチャリティーバーチャル花展を下記のように企画いたしました。作品の写真をスライドショー形式とし、YouTubeとTFCホームページに掲載し、世界に発信します。会員の皆様に楽しんでいただくと同時に、いけばなにご興味をお持ちの全世界の方々とも交流を広げていく良い機会となりますように願っております。また、出瓶料の一部を、東京都の医療従事者の方たちへのご寄附とさせていただきます。
日時: 2021年4月28日(水)配信予定 
※確定した配信日時とYouTube のURLは、追ってお知らせします。
Charity Virtual Ikebana Exhibition by TFC Members 
-With power of Ikebana
We pray for your health and safety under the Corona crisis. We planned the charity virtual ikebana exhibition by TFC members to become healing of you. We will make a slideshow from each photograph of the work and we upload it on YouTube and the TFC website.
We are convinced that it will be a good opportunity to spread our friendship to the people in the world who are interested in Ikebana as well as TFC members. We also plan to donate a part of the exhibition fee to the healthcare workers in Tokyo. 
Time/Date of the streaming: Wednesday, April 28th  (to be confirmed)
※We will inform you the confirmed Time/Date and the streaming URL.