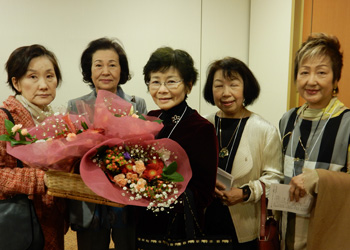 The Coming-of-age Ceremony by the Youth'Welfare Center was held on January 14, 2017 at the Hotel Lungwood in Nippori. The TFC president and project members were invited to the Celebration Party.
TFC presented bouquet flowers to the youths every year. Then the president of TFC received a letter of appreciation for that achievement.
Each of the 16 youths voiced their thanks to the people who had helped them throughout the years as well as expressing their future ambitions.
In the second half of the ceremony, a video made by the youths introducing themselves was filled with words of gratitude.
社団法人青少年福祉センター主催の成人式パーティーが、2017年1月14日にホテルランウッド日暮里で行われました。TFC支部長をはじめ、コミティーメンバーが招待されました。
TFCは、毎年新成人の方々に花束を贈呈しています。その功績に社団法人青少年福祉センターより感謝状を頂きました。
16名の新成人は、それぞれ、お世話になった方への謝辞とこれからの抱負を熱く語りました。式の後半に放映された新人を紹介する手作りビデオは、とても愛情に溢れたものでした。