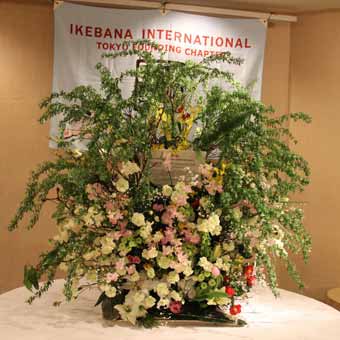 TFC 55TH ANNIVERSARY COMMEMORATIVE EXHIBITION- 2012
Ikebana International Tokyo Founding Chapter 55th Anniversary Commemorative Exhibition was held at Hotel Okura Tokyo on March 2nd. Nine schools and more than 100 members created beautiful works and celebrated the Anniversary.
In commemoration luncheon, Headmasters and Headmistresses of Ikebana schools and Honorary Advisor of TFC talked about the chapter's history. The party was held in a nice atmosphere from the beginning to the end. After the party, a tape cutting ceremony was held in front of the exhibition hall at 1:00 PM. The stream of visitors was never broken despite the heavy rain and the hall was alive all the time. A tower of flowers as a memorial to Tohoku earthquake disaster victims was set in the exhibition hall, and everybody had placed flowers in the tower. It was complete around 3 PM. TFC would like to thank participants for their cooperation.
Tokyo Founding Chapter has already begun to walk towards the 60th anniversary.
3月2日(金曜)ホテルオークラでいけばなインターナショナル東京支部55周年記念花展が開催されました。記念花展を象徴する様に9流派家元、100名余りの会員が参加し、賑やかな花展となりました。記念の昼食会では、お家元や名誉顧問の挨拶では今までの思い出が語られ、和やかな雰囲気となりました。昼食会終了後、会場でのテープカットが執り行われました。あいにくの大雨でしたが、来場客はひきもきれず、終始賑わいのある会場となりました。東北大震災の為の慰霊の花の塔が作られ、出展者はご自分の花を、来場者は用意された花を差し、慰霊の花の塔は3時頃完成しました。
皆様のご協力を心より感謝申し上げます。
いけばなインターナショナル東京支部は60周年に向けて歩き始めました。