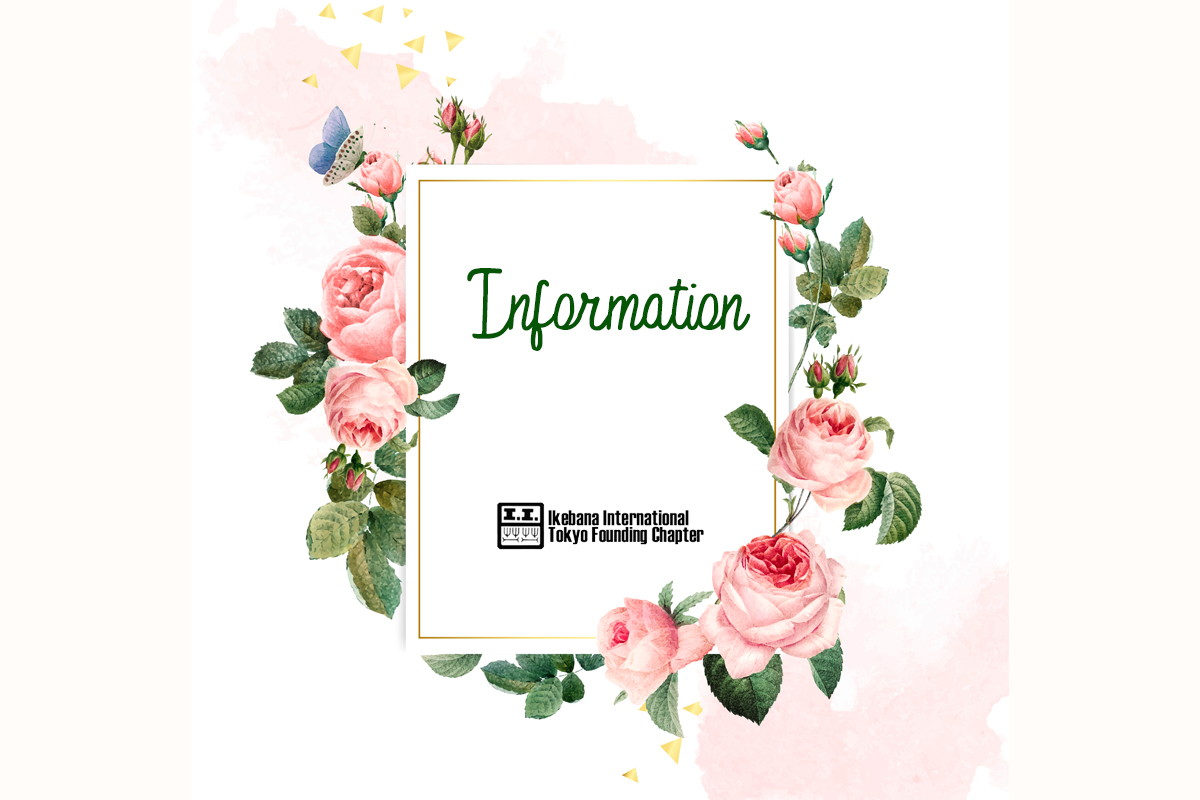 April Monthly Meeting 2022 / 4月例会 2022
April Monthly Meeting

We are very sorry that we had to cancel the February Meeting in consideration of your health and safety in the current situation of the Coronavirus spread.  We sincerely hope that you take good care of yourself.  Wishing the situation is getting better, we will hold the April Monthly Meeting, the Collaboration of Ikebana and Noh play.  The Ikebana demonstration will be given by Mr. Kosen Ohtsubo, Ryuseiha. The Noh will be performed by Mr. Takao Yamauchi, Hoshoryu Noh actor.  After the demonstration of Ikebana, the presentation of Noh in general and Noh Music will be given, then, "Hajitomi (The Wicket Gate)" will be performed.  Please join us for this monthly meeting. Depending on the spread of Covid-19, the meeting may be cancelled or the place may be changed.  In that case we will inform you on our website: https://ikebanatokyo.or.jp.  I would appreciate your understanding.
Dat
e
:
​ 
Wednesday
,
April 20th
​(12:00 Reception desk opens.)  
Place:​ Densho Hall Shibuya–ku Cultural Center Owada  ​23-21, Sakuragaoka, Shibuya-ku 
​5-min. walk from JR Shibuya Station West exit
*Ikebana Demonstration by Mr. Kosen Ohtsubo, Designated advisory teacher
*Noh presentation by Mr. Takao Yamauchi , Noh actor of Hoshoryu, and other actors and Noh musicians
Theme: Collaboration of Ikebana and Noh play, "Hajitomi    (The Wicket Gate)"
Fee: ​TFC Member​​  JPY4,000
​Other Chapter Member​  JPY4,500
​Guest​​​  JPY4,900
Reservation & Payment Deadline: Wednesday, April 13
Cancellation Deadline: Friday, April 15
Please note that a refund is not possible after the cancelation deadline.
TFC Members:
Payment information for TFC's account at Yucho Bank (Japan Post Bank):
For your reservation and payment, please complete the correspondence column and other necessary information on the payment slip which we sent you before and pay fee(s) into the TFC's account at Yucho Bank.  Please give your mobile number which can be accessed on the payment slip for emergency contact. Your receipt is your confirmation, so please bring it to the meeting. Please be aware the fee is not refundable in case of unavoidable cancellation of the Meeting due to emergency.
Others:
Please contact to TFC office (Monday, Wednesday and Friday 11:00~15:00)
Ikebana International Tokyo Founding Chapter
 5F, Misaki Bldg., 3-28-9 Kanda Ogawamachi,​ ​Chiyoda-ku, Tokyo 101-0052  ​​    
Tel: 03-3295-0720   Fax: 03-5283-3199
東京支部4月例会のおしらせ
コロナウイルスの影響を受け、皆様の健康と安全を考えて、2月例会を中止せざるを得ず、大変ご迷惑をおかけしました。このような状況下ではありますが、4月例会を下記の通り開催したいと存じます。
今回は、いけばなとお能のコラボレーションです。龍生派家元顧問、大坪光泉先生による立花のデモンストレーションをご覧いただいた後、宝生流シテ方の山内崇生様によるお能の解説、能楽の紹介、最後に「半蔀」の一部をご覧いただきます。是非ご参加ください。
なお、コロナ感染拡大の状況により、中止もしくは会場を変更する場合がございます。その場合は、TFCのホームページ上で(https://ikebanatokyo.or.jp)お知らせいたしますので、ご理解のほどよろしくお願い申し上げます。
場所:渋谷区民文化センター大和田伝承ホール
東京都渋谷区桜丘23-21
JR渋谷駅 西口より徒歩5分
* 龍生派 家元顧問教授、大坪光泉先生によるいけばな デモンストレーション 
* 宝生流 能シテ方 山内崇生様による能のプレゼン テーション、能楽の紹介
演目:半蔀    
テーマ:いけばなと能のコラボレーション 
会費:​東京支部会員​ 4,000円
​他支部会員​ 4,500円
​ゲスト(非会員)​ 4,900円
◎お申し込み、お支払い方法
TFC会員:
・名簿に登録されたお名前でのお申込みをお願いいたします。
・
郵送
しました
払込
取扱票の通信欄に必要事項をご記入の上、
ゆうちょ銀行の口座にお振込みください。
緊急時対応のため、連絡がつくお電話番号を必ずご記入下さい。
・必ず振込でのお支払いをお願い致します。その振り込みをもってお申し込みとなります。なお、お手数ですが払込受領書を当日お持ち下さい。
・緊急事態発生(すべての交通機関が止まった場合など)により例会を中止せざるを得なくなった場合はご返金できませんことをご了承ください。
TFC会員以外の方:
東京支部までご連絡ください(月・水・金11:00~15:00)
申込み・お支払い期限:​4月13日(水)                      
キャンセル期限:​4月15日(金)
キャンセル期限後のご返金は致しかねますのでご了承の程お願いいたします。
〒101-0052 千代田区神田小川町3-28-9三東(みさき)ビル5F
Tel.03-3295-0720 Fax.03-5283-3199