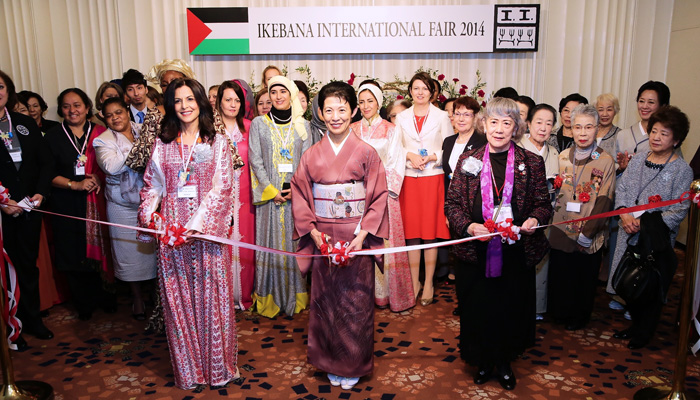 IKEBANA INTERNATIONAL FAIR 2014
Under a winter sky, Fair 2014 was opened to the warm welcome of large numbers of guests. H.I.H. Princess Takamado honored us with her presence. One of the Fair's purposes is to aid UNICEF gather donations for the needy worldwide.
Mme. Maali Siam, the wife of Ambassador of Palestine, provided energy for the success of the Fair as the Chairperson.
A number of traditional Palestinian fashions were shown during dances and a fashion show as part of the entertainment. In Magnolia Hall, works by Iemotos of 34 different schools were exhibited, while in 'Ho-Oh-No-Ma' a bazaar was held including booths from over 30 different embassies and many domestic vendors. Guests had great fun enjoying shopping and raffles.
冬空の中、会場には大勢の方々が集まり熱気に包まれ盛大にFair2014が開催されました。高円宮妃久子殿下のお成りを賜りました。フェアの収益の一部はユニセフを通して世界の恵まれない方々に寄付される恒例の行事です。
駐日パレスチナ大使夫人マーリ・シアム様が今年のフェア委員長としてフェアを成功に導かれました。
エンターテインメントでは、さまざまなパレスチナの民族衣装を着てのダンスやファッションショーが披露されました。「マグノリアホール」には34流派のお家元の華やかな作品が並び、「鳳凰の間」には30か国を超える大使館のブース、国内支部やベンダーさんが参加するバザーが催されました。ご参加された方々は、お買い物やラッフルを大いに楽しまれました