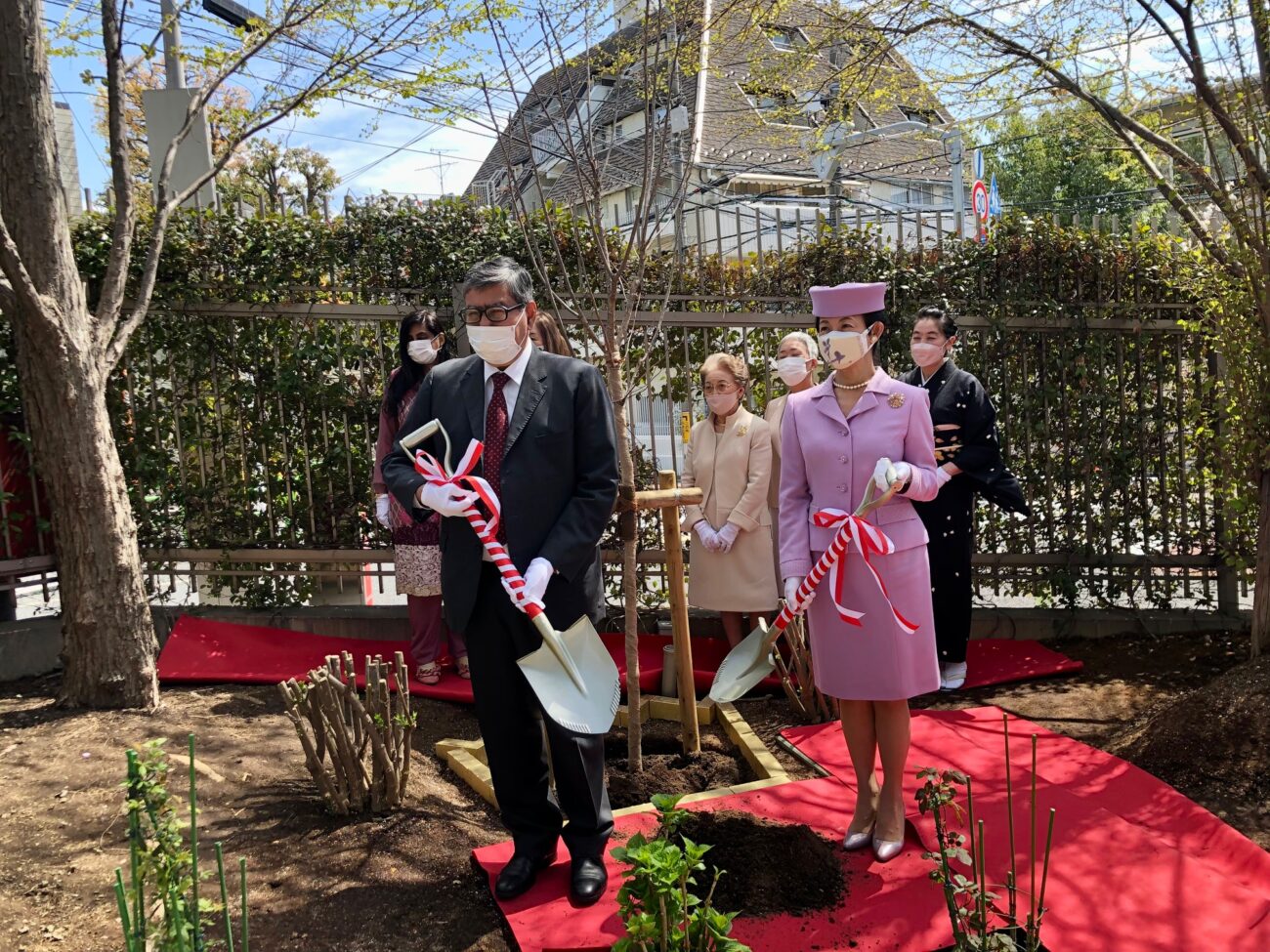 Ikebana Exhibition by TFC Members March 2022/会員によるいけばな展 2022年3月
The 70th anniversary of the establishment of diplomatic relations between
Japan and Pakistan
Sakura Tree Planting Ceremony and
Ikebana Exhibition by TFC Members
The Sakura planting and Ikebana exhibition was streamed on YouTube.  Please enjoy it.
日本とパキスタン国交樹立70周年記念
桜の植樹式及び会員によるいけばな展
桜の植樹ならびに会員によるいけばな展がYouTubeで配信されました。
是非ご覧ください。
。
*******************************************
Ikebana Exhibition by TFC Members
To commemorate the 70th anniversary of the establishment of diplomatic relations between Japan and Pakistan, Ikebana Exhibition by TFC Members will be held at the Embassy of Pakistan.  We hope that this will be a good opportunity to deepen the ties between Pakistan and Japan and to expand exchanges with many people through Ikebana.  At the Ikebana Exhibition, each work will be streamed on YouTube at a later date. Depending on the situation of the spread of Coronavirus infection, the Ikebana Exhibition may be held unattended.  In that case, we will inform you on our website, so please be sure to check it.
Date: Monday, March 28th, 2022  11:30-15:30 Open to public 
*You cannot enter the venue before 11:30.  
Venue: Embassy of Pakistan  4-6-17, Minamiazabu, Minato-ku
Organized by Ikebana International Tokyo Founding Chapter/Embassy of Pakistan
日本とパキスタン国交樹立70周年記念『会員によるいけばな展』のご案内 
日本とパキスタン国交樹立70周年記念にあたり、『TFC会員によるいけばな展』がパキスタン大使館で開催されます。パキスタンと日本の絆を深めると共に、多くの皆様といけばなを通して交流を広げていただく良い機会となりますように願っております。花展では、それぞれの作品を後日YouTubeで配信いたします。なお、コロナ感染拡大状況によりましては、花展は無観客となります。その場合、東京支部のホームページにてお知らせしますので必ずご確認ください。皆様のお越しをお待ち申し上げております。
記
日時:2022年3月28日(月) 11:30-15:30 一般公開  
※11:30前のご入場はできません。
会場:駐日パキスタン大使館  東京都港区南麻布4-6-17
主催:いけばなインターナショナル東京支部・パキスタン大使館