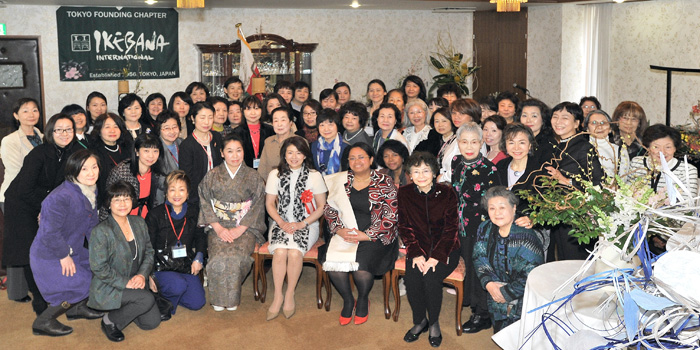 Ikebana Exhibition
TFC members' Ikebana Exhibition was held at the Embassy of the Republic of Madagascar in Japan on March 3. 2017. 61 TFC members participated in this event. The Ikebana International President Junko Katano and Ms. Yuko Kishida visited this exhibition. The ribbon cutting ceremony was conducted by Ms. Rosette Lalatiana RASOAMANARIVO, Ms. Yuko Kishida and TFC President Ms. Noriko Kira to celebrate the opening of the Exhibition.
Many guests visited the Embassy and enjoyed the Ikebana Exhibition. The visitors also enjoyed shopping various indigenous products of Madagascar such as Vanilla Sticks and handicrafts.
The success of this exhibition owes much to Ms. Rosette Lalatiana RASOAMANARIVO, Charge d' Affaires of Madagascar Embassy devoted cooperation.
会員によるいけばな展
TFC会員によるいけばな展が3月3日に、ラソアマナリヴォ ロゼット ララティアナ代理大使の御計らいで、マダカスカル大使館で開催されました。TFC会員61名が参加しました。片野順子いけばなインターナショナル会長及び、岸田裕子外務大臣夫人が来賓されました。ラソアマナリヴォ ロゼット ララティアナ、マダカスカル代理大使、岸田裕子外務大臣夫人、吉良紀子東京支部長によりテープカットがされました。
沢山のゲストの皆様に大使館にお越し頂き、多くのいけばなを御覧頂きました。また、マダカスカル産のバニラビーンズやハンディークラフトグッズのお買い物を楽しまれました。いけばな展は、ラソアマナリヴォ ロゼット ララティアナ代理大使の御厚意により、成功裡に終わりました。