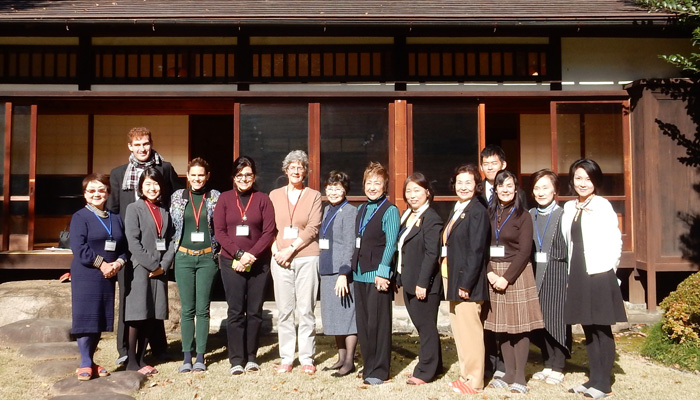 IN TOKYO UNIVERSITY
東大キャンパス懐徳館にて、デモンストレーションとワークショップを実施
Receiving a request from The University of Tokyo International Headquarters international Planning Division, TFC members gave a demonstration and workshop at KAITOKUKAN in Tokyo University Campus to the wives of people coming from ACEAN countries to attend an international conference.
First, Mrs.Okawara, the TFC member arranged Moribana using a Kenzann (needle pinholder for flowers) and Nageire using a vase while explaining Ikebana.
Secondly, the TFC member Mrs. Silvia exhibited Ikebana free style using a cellophane.
After two demonstrations, participants did the workshop with a vase containing an oasis.
Although there was a bit of a struggle at first , they arranged their works eagerly, they were able to finish satisfying works.
TFC members and participants spent an unforgettable day through Ikebana. We will continue this project as an annual project.
東京大学国際本部国際企画課からの依頼を受け、国際会議に出席された御主人に同伴された御夫人の為に、東大キャンパスにある懐徳館にて、TFCボランティアメンバーがデモンストレーションとワークショップを行いました。
最初に、TFCメンバーの大河原さんが盛花(剣山を使った作品)と投げ入れ(つぼを使った作品)をいけばなの説明と共に披露し、次に、TFCメンバーのシルビアさんが自由花型を仕上げました。
2人のデモンストレーションの後に、参加された御夫人達に、オアシスを使った花器にワークショップをして頂きました。最初は戸惑っていた参加者も、熱心に取り組まれ、各々作品を仕上げることができました。
TFC会員も参加者もいけばなを通して、素晴らしい時間が過ごせました。
このような活動をTFCの恒例活動にできればと思います