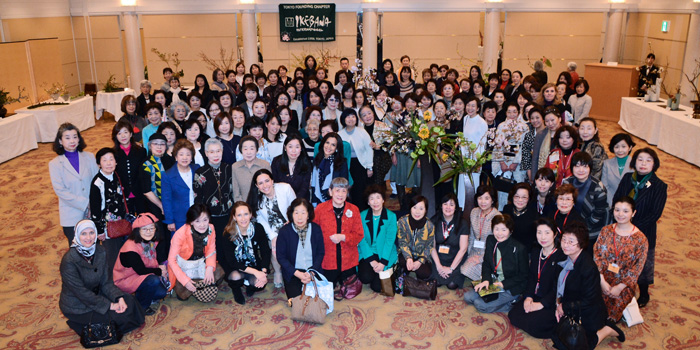 IKEBANA EXHIBITION 2016
Ikebana Exhibition
Ikebana Exhibition by TFC members for the Commemoration of 60th Anniversary was held at Aoyama Diamond Hall on March 16. 113 participants, including iemotos and people related embassies, displayed their creative work.
In the cafe corner, the activities of the TFC displayed throughout the day by the slideshow.
Free ikebana lesson workshops were popular, and more than 30 women from diplomatic communities in Japan participated. First, there was a lecture of Ikebana by Mrs. Tsujii Mika of Saga Goryu. After that, three of schools' teachers taught Ikebana each tables.
White Elephant sale was very successful. It gained a record profit. We greatly appreciate your kind cooperation.
会員によるいけばな展
3月16日(水)青山ダイヤモンドホールにて、いけばなインターナショナル東京支部60周年記念  会員による花展が開催されました。10流派家元、4大使館を含め113名が参加し、賑やかな花展となりました。
喫茶コーナーには、スライドショーにより、東京支部の例会の様子が終日上映されました。
今回、無料のいけばな体験を企画しました。大使夫人10名を含む30名以上の方が参加されました。最初に嵯峨御流の辻井ミカ様にいけばなの説明をして頂きました。その後、三流派の先生方に各テーブルで指導して頂きました。仕事帰りの方にも来て頂けるように午後7時半までと開催時間を延長しました。
今年も「ホワイトエレファントセール」を開催し、記録的な収益をあげる事ができました。ご寄付を頂いた会員の皆様に心から御礼を申し上げます。